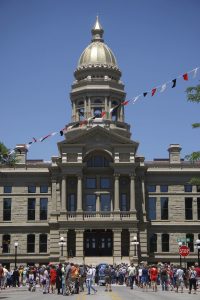 The legislature passed HB001/SF001, the budget bill for the next state biennium. In the Transportation budget, on page 21 of the budget bill, a provision was added to have WYDOT "assess and collect or cause to be collected" an additional $5 on each registration.
The fee would be collected for a two year period, beginning July 1, 2020 and ending June 30, 2022, and would go towards the State's planned upgrade of the Revenue Information System (RIS).
WCTA President Eisele has contacted WYDOT requesting they get an opinion from the Attorney General to determine whether the budget provision actually provides authorization for County Treasurers to collect fees beyond what the current statutes dictate.
The legislators considered a bill to put the $5 increase into statute, but that bill failed.